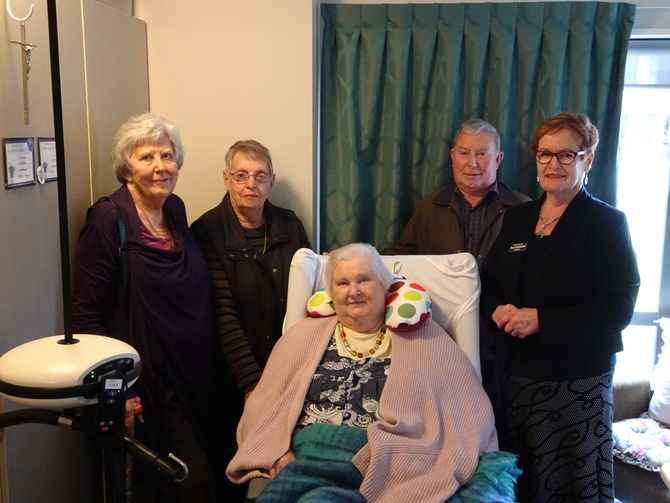 Three trustees of the Manchester Unity Welfare Trust Board visited WesleyCare in August to look at some of the equipment they have funded over the past few years.
The level of support needed by older people as they enter residential care is increasing. People are staying in their own homes for longer and often have greater needs upon being admitted due to frailty or weight. The higher level of care required places increased pressure on aged-care providers to have the equipment needed to provide the best support possible for both residents and staff.
WesleyCare Manager Fran Pucilowski and her team have noticed the increased needs of residents over the last couple of years. Soon, thanks to two grants from the Manchester Unity Welfare Trust Board, WesleyCare will be able to provide the very best in care and support for up to 6 bariatric residents at any one time. "Last year's grant from the Trust enabled us to install a hoist and tracking system in three rooms on the ground floor," says Fran. "This has enabled staff to provide a higher level of care and support for residents that are bariatric. A further grant from the Trust this year will mean another hoist and tracking system will be installed on the first floor which will cover an additional four rooms."
Funding for equipment such as hoists is not covered by residential contracts meaning aged-care providers need to fund this essential equipment themselves. Over the past five years, the Trust has generously provided grants for WesleyCare to install a recumbent bathing system, a flotation chair for palliative care residents and 12 months' salary for a part-time role supporting older people in CMM's community housing at Wesley Village. "We are so thankful to the Manchester Unity Welfare Trust Board. They have enabled WesleyCare to purchase important equipment that we otherwise would struggle to afford," says Fran.
Manchester Unity Welfare Trust Board Chairman Paul Haglund was delighted to visit WesleyCare along with trustees Liz Baxendine and Sue Riley. "It was great to see the hoist and bath and hear first-hand the difference it makes to the older people at WesleyCare. The equipment certainly plays a significant part in the care of residents," says Paul. "This year the Trust gave $363,029 in grants to 17 organisations that care for and promote the wellbeing of older people in Canterbury. It is fantastic to see all the good work that is going on and for us as a Trust to help resource it."