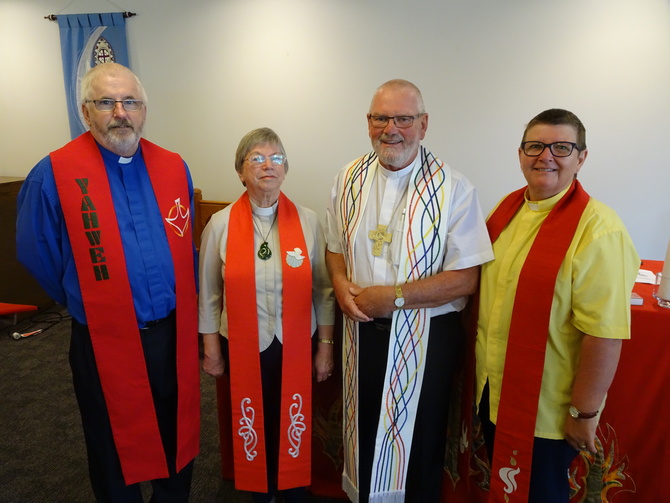 WesleyCare is pleased to welcome two new chaplains to WesleyCare. Revs Jill van de Geer and Michael Greer will share the chaplaincy role, ensuring WesleyCare provides responsive chaplaincy. Mission staff may also request the chaplaincy service.
A special service was held on February 20 in Wesley Chapel to induct them into the new role.
Both Jill and Michael are new to this job but not to working alongside each other. Their friendship goes back to earlier days at Pitt Street Methodist Church, in Auckland, and to working days together within the Methodist Church of New Zealand.
Jill has held prominent positions in the Methodist Church of New Zealand, having served as general secretary, vice president and president, the only person in the church to have held all three. However, this is her first chaplaincy role.
"I've done it all backwards but in ministry, no matter which area you work, every role is as important as any other role I've had. I don't see any of my jobs as being above the others, just different roles with different tasks but the core things are love, compassion and empowerment of people."
Prior to retirement, Rev Michael Greer was the Christchurch Methodist Mission superintendent (today's executive director) from 2003 to 2009 and counts more than 40 odd years in ministry. He served the church in numerous other roles.
He sees his values as aligning with those of the Mission. "In services from within the commercial sector, any dividend is invariably paid to the shareholder. As a religious not-for-profit, the priority is for the "dividend" to be constantly poured back into the delivery of quality services."
As people grow older and health becomes more fragile, WesleyCare extends unconditional care and concern for those people and their families. People can go into the latter years assured that even in frailty, they are still valued and their life experience cherished. Whatever their appreciation of personal spirituality may be, it can be affirmed and built on, Michael says.
Pictured: New chaplains Revs Jill van Geer and Michael Greer, centre, at their induction service on February 20, 2019. Left is Rev Andrew Donaldson (Methodist Mission board member) and right is Rev. Kathryn Walters (Methodist district superintendent).