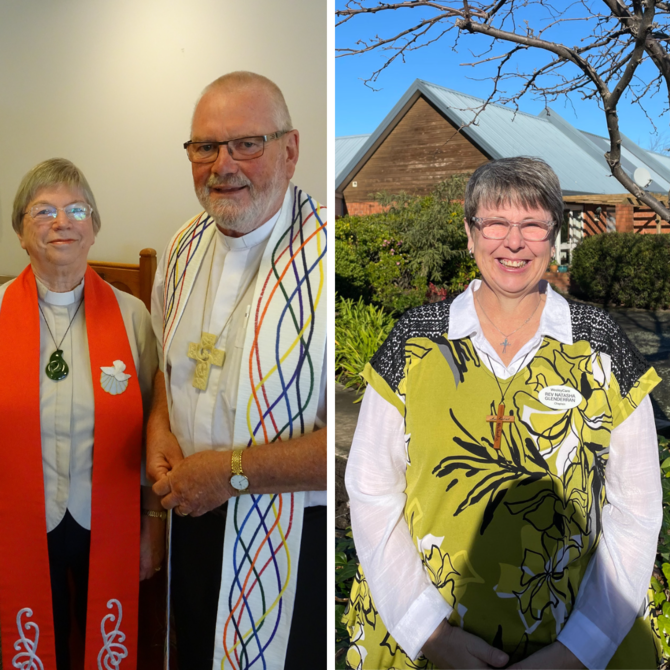 CMM is sad to farewell Revs Jill van de Geer and Michael Greer, our chaplains at WesleyCare for the last three years. Jill and Michael have provided emotional and spiritual support to WesleyCare residents, family and staff, in sometimes trying circumstances.
They provided a range of chaplaincy services, such as offering pastoral care, leading the twice- weekly services and presiding over funerals. We thank them for their role during the two lockdowns, when their dedication was particularly appreciated.
Jill and Michael have brought a sensitive and compassionate perspective to their role, as well as a much-valued sense of humour. Jill Hawkey, CMM Executive Director, says she especially appreciated their willingness to respond to the myriad roles required of them and to offer guidance, often at short notice.
"Jill and Michael have provided comfort to many of our residents, particularly during the Covid-19 lockdowns when their daily visits ensured that residents did not become isolated. We thank them very much for their contribution to the life and spirit of WesleyCare and are pleased they remain in our midst as residents of Wesley Village."
At the same time, we welcome Rev. Natasha Glenderran to the position. Hailing from Whanganui, her working life began with dairy farming before she attained a degree in molecular biology. During her studies, Natasha went back to church. Faith became more realistic to her. She became involved as a lay person in the church, took part in leadership and felt a call to ordination in the Anglican Church.
Once ordained, Natasha served in Tapawera, where coincidentally, found she had family connections and was related to half the district. She next served in another small parish, Hanmer Springs. In both settings, she got involved in community activities: volunteering as a fire fighter and an ambulance officer, working on a community board, a food bank, meals on wheels, and with a local transport service.
Natasha describes it a privilege to be invited to share time with older people and to give of herself fully. "A lot of work with older people is just being alongside them and spending the time. People don't care how much you know until they know how much you care. Sometimes older people will put a brave face on things and sometimes your presence with them just gives them permission to say 'this sucks'.
"My friends have said I'm good at this job, making connections with people. I'm quite down to earth, not very pious or holy. It is that thing of just listening to people. I kind of like people," she laughs.